Minutes of the 44th Annual General Meeting.
Gary Mabbutt, President, welcomed local councillors, members and residents and our Speaker, Planning Consultant, Jed Griffiths.   After 44 years the Society still had a strong voice and at this time was in need of an even stronger voice to uphold the Green Belt.   He thanked the committee and asked anyone present who could assist in any way to come forward and join.   Help was always needed especially with the Local Plan at its present stage.   He urged members to use the website to keep up to date.
Update of Local Plan Consultation with Planning Consultant Jed Griffiths,MA Dip TP FRTPI
Jed explained that there had been six stages so far with the Inspector asking Council to supply sites for 16,000 dwellings.   The Council asked for sites to come forward and had 140 replies.   Representations were made, Councillors were lobbied with complaints of significant harm to Green Belt, strategic gaps decreased between settlements and environmental harm.   The Council is putting forward a plan for 14,000 dwellings.
At present most sites which would encircle Welham Green have gone.
WeG3a for 68 dwellings (access?) and WeG10 for 120 dwellings (surface water?) remain with Marshmoor for 80 dwellings (science park)
BrP 1 for 104 dwellings at Bell Bar makes a revision of the green belt (extension of Brookmans Park)   BrP 4 for 250-300 dwellings – against as good quality agricultural land, woodland and countryside gap.
LHe 4/5 is still in.   HS24 – members need to comment.
LHe3 – rejected by Council.
Jed urged everyone to respond to the Consultation either by email, on line or by letter.
A question and answer session followed.
The Chairman thanked Jed who was warmly applauded by the audience.   He reiterated that the community must respond to the document individually.   Local people can see what the issues are and it is important to show these. For instance the traffic problems at WeG10 and BrP1. We will provide information through our website.   There were 10,000 responses last year.   We need 10,000 again.
The President asked anyone who had pictures of local problems to let us have them.   He thanked everyone for coming and their questions and urged people to be proactive and join the committee.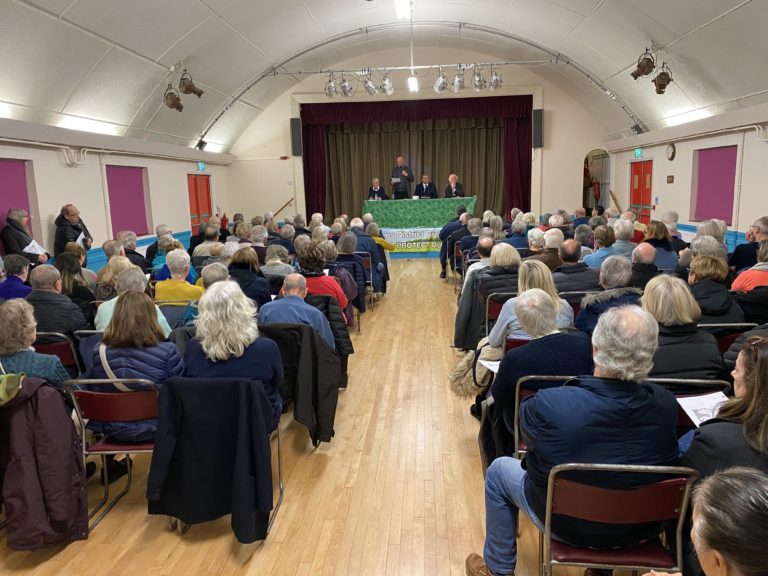 The turn out was estimated to be between 120 and 140 members